Connecting With Your Audience Using PowerPoint
Are you growing a Side Hustle and you need a away to share you ideas with your audience?
Do you have a business proposal to present to your clients?
Are you an infopreneur looking to sell your knowledge online?
If your answer to these questions is a big yes… then this could be the solution that you have been looking for.
Do you know what all the top speakers have in common when they deliver a message to their audience? In one word: PowerPoint. That's right. They use PowerPoint to present their ideas to the public. Why? Because it's super easy to use and it's very flexible.
Did You Know…
PowerPoint was created by Robert Gaskins and Dennis Austin in 1987, then it was an independent company owned by Forethought, Inc.
The software was initially developed to work on Macintosh computers only. Microsoft decided to acquire PowerPoint the very same year it was developed, they paid $14million.
In 1993 PowerPoint became part of Microsoft Office.
PowerPoint's market share is estimated to be around 95% together with that of Microsoft office.
Currently, over 500 million people use PowerPoint, with about 30 million presentations being created everyday.
Over 6 million teachers around the world use PowerPoint for classroom lectures. While more than 120 Million people use PowerPoint to create business presentations.
PowerPoint is now available as an app across all mobile devices.
PowerPoint online is a cloud based version of PowerPoint that allows users to create, edit and share PowerPoint presentations. Users can work with others on shared projects, in real-time.
Here are some reasons you should consider using PowerPoint to connect with your audience and share our ideas.
PowerPoint online provides the highest level of convenience
You Can Make use of PowerPoint templates in over 40 categories.
You Can Keep your thoughts and ideas organized for a presentation
Keep the attention and engagement of your audience
Here at Side Hustle Income Strategies, we want to help you to get the most out of Power Point. We have added this training to help you get started and utilize power point to its fullest!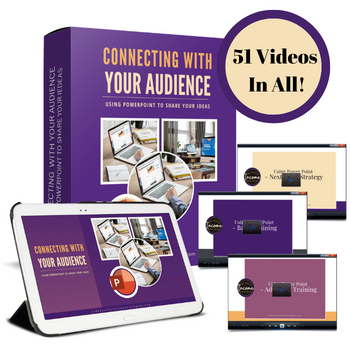 Introducing "Connecting With Your Audience. Using PowerPoint To Share Your Ideas"
This resource is made up of 3 Video training series (All together this includes 51 Videos)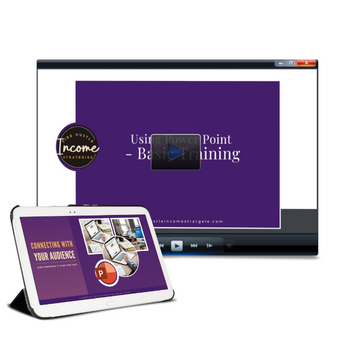 Module 1 : Using Power Point – Basic Training
What you'll discover in this 20 part video series: How to get started with Powerpoint, Learn how to get use to the interface and configure your settings, Learn how to create your first presentation slide and what are the options to select when doing it, Learn how to work with Powerpoint templates and backgrounds, How to quickly and easily work with body text and headlines. …. and much more.
List below are the video titles included in this series.
Overview
Using The Right Mouse Button
The Home Menu – Clipboard Sub Menu – Editing Sub Menu
The Home Menu – Slides Sub Menu
The Home Menu – Font and Paragraph Sub Menus
The Home Menu – Drawing Sub Menu – Dictation Sub Menu
The Home Menu – Importing from Keynote and Google Docs
The Insert Menu – 3D Models and Add Ins
The Insert Menu – The Images Sub Menu
The Insert Menu – Media Sub Menu
The Design Menu
The Transitions Menu
The Animations Menu – Part One
The Animations Menu – Part Two
The Slide Show Menu
The Presenter View
The Review Menu
Sharing and Collaboration
The View Menu
View and Outline Command Example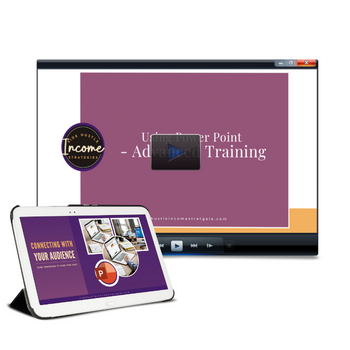 Module 2: Using Power Point – Advanced Training

What you'll discover in this 20 part video series: Making Your Presentation More Accessible, Using PowerPoint with Your Mobile Device, Inserting Characters, Layering Effects in PowerPoint, Rehearse with Presenter Coach, Reusing Slides From Other Presentations…and much more.
List below are the video titles included in this series.
Making Your Presentation More Accessible
Using PowerPoint on the Web
Add Forms and Quizzes to Your Presentation
Using PowerPoint with Your Mobile Device
Convert Presentation to Desktop
Convert Your Presentation To a Text Only Document
Inserting Characters
Layering Effects in PowerPoint
Rehearse with Presenter Coach
Reusing Slides From Other Presentations
Dictate Your Slides
Adding Audio To Your Presentation
Adding a Screen Recording
Export The PowerPoint to Video
Remove Image Background
Displaying A Live Feed with Cameo
Transitions and Morphing
Add a QR Code to Your Presentation
Draw and Animate
Convert Your Presentation Into an Animated GIF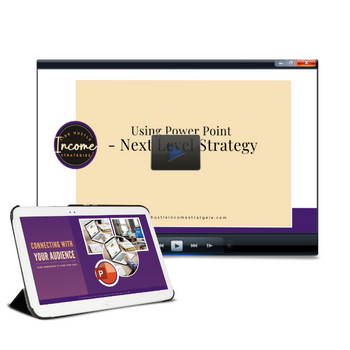 Module 3 : Using Power Point – Next Level Training

In this 11 part video sere you will get access to practical training that will show you how to leverage your knowledge about the effective use of PowerPoint. List below are the video titles included in this series.
Optional Set Up For Windows Subscribers
Creating Enhanced Handouts For Multi Media
Testing The Limits Of PowerPoint Add-Ins
Making Adjustments Mid-Presentation
Making Your Presentation Interactive
Unique Selling Preposition
Master Exponential Marketing
Strategic Alliances And PowerPoint
Direct Response And Power Point
Educational Marketing And PowerPoint
Database Marketing
Many people that try to figure things out on their own end up wasting a lot of time and get frustrated and end up with nothing.
That's because they spin their wheels, follow bad advice, and just don't get the right roadmap to success. This video series will prevent that from happening…
When you invest in this training today, you watch as I do it… and you replicate it.
It's THAT simple. And without wasting too much of your precious time, I'm going to make this offer so good that you simply cannot miss this.
Today, you can get in at the highly-discounted, one-time investment of just $37.
That's it. You will get all three video series.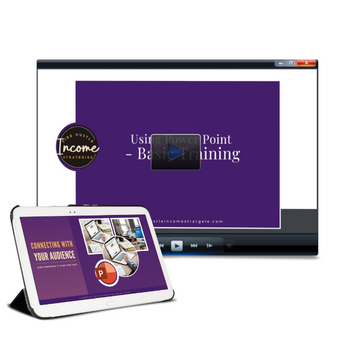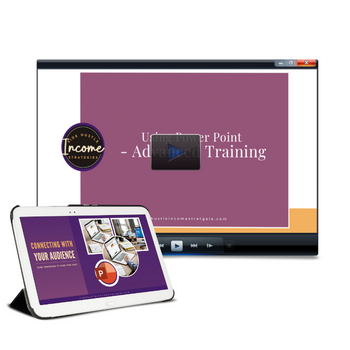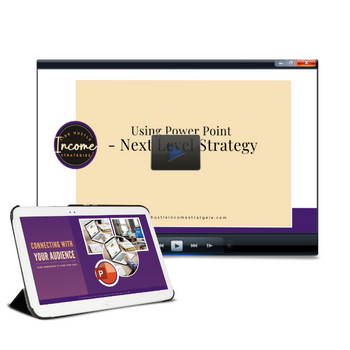 To get instant access, all you have to do is click the that say "Unlock This Resource"