Free Facebook Traffic Strategies
Are You Ready To Generate Unlimited Leads & Sales Using Facebook Without Spending A Dime On Ads?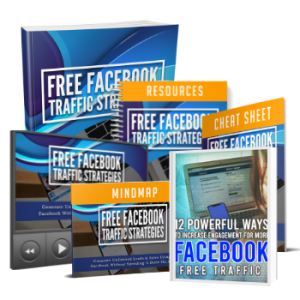 It's About Time For You To Learn The Best Free Facebook Traffic Strategies!
It is no secrets that it is more difficult to get free traffic from Facebook now than it ever was before. Facebook is a business at the end of the day, and they want marketers to spend money on advertising. The most important thing that you can do first is develop a growth mindset when it comes to Facebook. Facebook is by far the biggest social network on the planet. It is the third largest website in the world after Google and YouTube and it has billions of users that use it regularly. Now you can leverage the power of Facebook to drive free traffic to your website.
It is much tougher to get free traffic these days as Facebook wants marketers to spend money on ads instead.
To successfully drive free traffic from Facebook you have to know what works and what doesn't. Other marketers have tried driving free traffic from Facebook and failed.We have worked hard to provide you with everything that you need to know to use the Facebook platform to generate free traffic.
Here's what you should consider, is that in this e-course……
You will learn the best methods to use to get the most free traffic.
You will learn what successful Facebook marketers do to drive free traffic.
You will be able to engage with your audience.
You will learn how to optimize your Facebook Page so that you get the maximum amount of free traffic.
You will learn how video can bring you a lot of free Facebook traffic.
Here is everything that is included in this e-Course
Module 1 : Free Facebook Traffic Strategies
Here is what you will learn :
The Reality Of Free Facebook Traffic
Optimize Your Facebook Page
The Importance Of Your Personal Story
Giving Your Audience What They Want
Content For Free Facebook Traffic
Free Facebook Traffic From Video
The Power Of Facebook Groups For Free Traffic
Create Your Own Facebook Group For Free Traffic
Best Practices For Free Facebook Traffic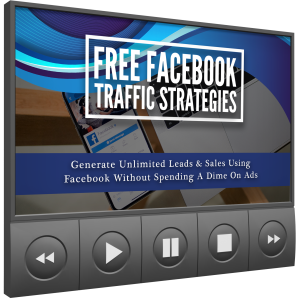 Module 2 : Free Facebook Traffic Strategies Video Series
Did you know that most people learn a lot faster when they see something being done on video than by just reading about it? That's because most people out there are visual learners. For your convivence and benefit, each chapter is also in video format.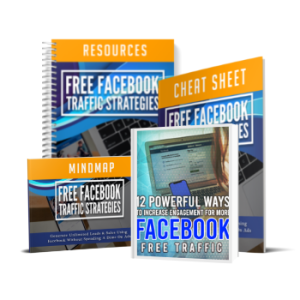 Module 3 : Free Facebook Traffic Strategies Bonus Bundle
Free Facebook Traffic Strategies – Cheat Sheet
This cheat sheet is a handy checklist that makes it easy to get started. It breaks up the entire guide into easy-to-follow steps so that you can make sure you have all the highlights of everything covered inside right at your fingertips.
Free Facebook Traffic Strategies – Mind Map
Some people learn better by looking at a mind map. The mind map gives you an overview of everything covered inside the guide. You can also print it out for quick reference anytime you need it!
Free Facebook Traffic Strategies – Resource Guide
The Resource Guide gives you a quick point of reference to all of the resources mentioned throughout the guide.This makes it easy to plug-in and stick with what you're looking for.
Special Guide, "12 Ways To Increase Engagement"
Frequently Asked Questions