Solopreneur Success
ATTENTION: Solopreneurs and aspiring solopreneurs

"How Grow Your Business as a Solopreneur Faster and Smarter"
This guide will show you how you can turn your skills, passion, or talents into a business as well how to stay motivated and consistent as a solopreneur
Did you know that about 81% of all 30 million small business owners in America are solopreneurs? This means that they have no paid employees working for them. To get established, many have to work extremely hard. About 81% of small business owners will work overtime each week.

However, solopreneurs get to work from home and love it. There is a lot of freedom that comes with owning your own business! They do not have to worry about a boss or employees- just the work that they have to do. Plus, many feel confident about their future.

Do you want to become a solopreneur? You could take your talents and expand on them- allowing you to earn an income from what you love to do. Most solopreneurs start their own business because they are ready to be their own boss- are you? Be sure to keep reading to learn more.
The big question is, why solopreneurship?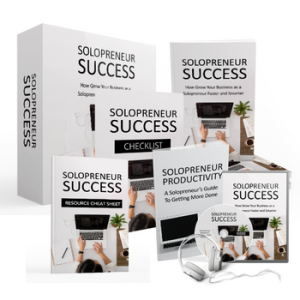 Be Your Own Boss
As a solopreneur, you would be in complete and total control of your business. That means less stress at work, which you would likely enjoy much more. Taking the plunge in solopreneurship requires that you are disciplined, but many people actually work much better without a boss. If you feel that you can work from home easily, then this career path could be perfect for you.

You Have a Passion
Many solopreneurs are creative. They may sell their art, designs, written content, or other works. Plenty of freelancers can also be considered solopreneurs. If you have something you love doing each day, you can use it to make a business. When we are doing what we love, we are happier and much more productive.

Plan Your Time
Solopreneurs need to know how to use their time effectively. You will want to spend time on only important tasks, so that your business can grow. If you struggle with time management, you will need to work on that as a solopreneur. There are plenty of methods that you can try. The Pomodoro Technique works the best. It involves setting a timer and working consistently.
.
How Can You Get Started?
If you want to become a solopreneur, it is essential that you do not dive in without knowing what you are getting into. You should never attempt to start a business without a foundation and a plan. Otherwise, your startup could fail and you would lose the money you invested in it.

However, plenty of solopreneurs succeed. The ones that do are the ones who spent time researching planning, and put in the effort needed. They worked hard to get where they are. Keep in mind that even the richest, most famous solopreneurs had to start somewhere.

We put together an informative guide for you. This guide includes plenty of detailed information on how to start and plan a solopreneur business. If you are interested in working from home, you will want to check it out.

We are very excited to introduce you to…
SOLOPRENEUR SUCCESS

How Grow Your Business as a Solopreneur Faster and Smarter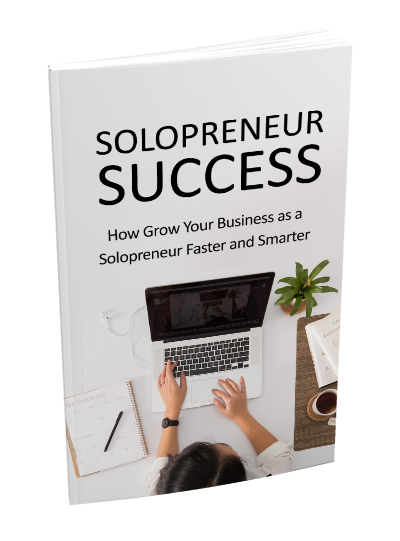 Module 1 : eBook / Guide – Solopreneur Success
Here are some of the valuable information that you will learn from this eBook include:
Solopreneur versus entrepreneur. What are the differences and why it matters
How to know if you are ready to be a solopreneur
Why you should create a single business focus and niche down
How to determine what business to focus on as a solopreneur
How to work smarter, not harder
How to stay productive in your business, even when things
How to eliminate distractions and overcome bad habits
How to prepare a work-from-home routine
9 things you can do to level up your time management skills
How to take advantage of apps and tools to scale and streamline your business
What your daily, weekly, and monthly goals should include
Why consistency matters as a solopreneur and how to be consistent in your business
How to plan a budget so you're spending and investing on the right things.

And so much more!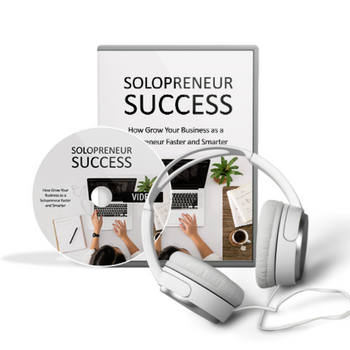 Module 2 : Video & Audio Series – Solopreneur Success
10-Part Training Series To Help You Get Ahead Even More…
Video Titles & Audio
01 – 3 Amazing Solopreneur Success Stories 03:40
02 – 3 Tips For a Healthy Work-to-Break Ratio as a Solopreneur 03:27
03 – 4 Shocking Ways Your Children Can Help Grow Your Solopreneur Business 03:23
04 – 5 Amazing Tips Successful Solopreneurs Want To Keep Secret 03:33
05 – 5 Best Free Resources For Solopreneurs 03:56
06 – 5 Helpful Tax Tips All Solopreneurs Should Know 03:53
07 – 5 Pandemic-Safe Solopreneur Networking Ideas 03:48
08 – 5 Tips for Using Social Media to Promote Your Solopreneur Business 03:57
09 – Staying Motivated as a Solopreneur 03:37
10 – Top 5 Solopreneur Ideas to Try at Home 03:55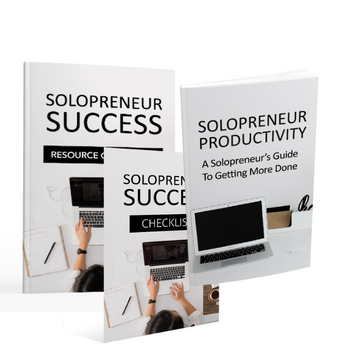 Module 3 : Bonus Bundle – Solopreneur Success
Point By Point Checklist – View or print this handy checklist so that you can check off each point.. It is like a summary of the entire guide but in actionable, bite-sized points so that you can successfully get through the course.
Resource Cheat Sheet – You'll also get access to a rolodex of top sites, blogs, forums, tools, apps and services to get you even further. Inside you'll find :Top recommend tools, Top books to read, Top tips and how to's
Quick Read Report : Solopreneur Success For Productivity