The Creator Economy
Become a Content Creator
Are you ready to learn how to build an audience and monetize your skills, passions and hobbies from content creation? Becoming a content creator is a great way to use your skills and passions to make an income. All you need to do is make content that can have an audience and reach many people. You will find that you can earn more income than ever before from your home office or bedroom. You can wake up doing the thing you love the most everyday.
Start By Learning Your Audience.
Before being able to make content, you need to establish an audience and make content for that audience. You also need to choose the right platform based on that audience as some generations prefer Snapchat and TikTok while others prefer YouTube. You will need to establish your audience and then determine how to make content for them. Knowing your audience is the most important step when it comes to content creation and it's the first step to become an influencer.
Social media can be your main income.
Social media is one of the best ways to earn income since almost everyone these days are using social media for networking and advertising. Social media is a competitive market since many people are on the platforms making content and wanting to be content creators. However, you can still make a name for yourself by following the right guide and by having the right tools. You just need to invest in yourself and invest in your skills in order to be able to market them.
Becoming an effective content creator requires experience and training.
Becoming a content creator on your own can prove to be impossible, that's why you need to do some research and training before diving into the world of content creation. Not knowing the right tools and systems can make or break your experience as a content creator. Your relationship with your hobbies is also important.
Find your niche.
You need to find a niche before becoming a content creator. Decide what you are good at and what your passions are. Then, you can make content based on your hobbies and your experiences. So where do you begin. How can become an effective content creator and grow your audience?
In this e-Course, "THE CREATOR ECONOMY" you will learn how to build an audience while you monetize your skills and passions. Here is what is included in this e-Course.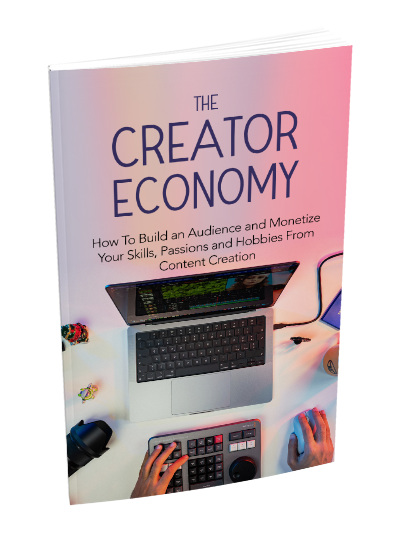 Module 1 : e-Book / Guide
Here is what you will learn in this guide:
The statistics behind social media engagement and how to gain more followers;
How creating content can give you a more successful and fulfilling life;
Why you need to focus on finding your niche to make the best content;
How to refocus on finding the things you're good at so you can monetize on them;
How to find the perfect audience so you can market yourself;
How to create content for a number of different platforms including Instagram and YouTube;
How to spend less at your 9 to 5 job and more time making the things you love in content;
How to improve your social media following and gain more followers;
Ways to strengthen your relationship platforms and brands;
Rules for partnering with brands and affiliate marketing;
Successful techniques for affiliate marketing;
How you can practice making content before posting the real deal;
Customized activities that will help you know which content works best for you and how to make more of it;
Practical ways to join social groups network with people who can help you;
4 techniques to be more open to making content and posting it on platforms;
Over 20 additional resources that will help you with content creation and finding the perfect audience;
Module 2 : 10 Part Video / Audio Series
Topics Cover:
Topic 01 – 3 Challenges to Expect as a Content Creator
Topic 02 – 3 Tips for Creating Branded Partnerships
Topic 03 – 4 Books That Can Help You Create Content Consistently
Topic 04 – 5 Content Creators to Learn From
Topic 05 – 5 Tips For Using Social Media Advertising
Topic 06 – 8 Tips For Choosing Your Content
Topic 07 – 10 Ways To Make Money As A Content Creator
Topic 08 – Creating Success as a Social Media Influencer
Topic 09 – How to Offer Your Audience Something They Can't Resist
Topic 10 – How to Use Affiliate Marketing
Module 3 : Bonus Content Bundle
This Bundle Includes:
Point-By-Point Checklist :View or print this handy checklist so that you can check off each point. It is like a summary of the entire guide but in actionable, bite-sized points so that you can successfully get through the course
Resource Cheat Sheet : Deepen your knowledge and learn more with this handy resource cheat sheet.
Mind-map : A quick glance over this mind-map and you'll get an instant refresher of all the major points and action steps from the main guide.