Time Management For Entrepreneurs
"Discover The Simple Steps You Need to Take to Better Manage Your Time As An Entrepreneur So You Can Get More Done."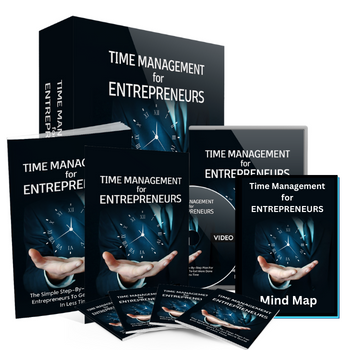 The job of an entrepreneur is tough. They have to manage every aspect of their business from sales to marketing to finance. Many new entrepreneurs believe that in order for them to succeed they have to work harder and put in more hours because the more they can accomplish the higher their chances for success. However, in order to avoid the burnout that is so common among entrepreneurs today, you have to learn how to work smarter, not harder.
The Benefits of Time Management For Entrepreneurs
For entrepreneurs, managing their time is more critical than ever. A decrease in productivity can be extremely detrimental for entrepreneurs who face tons of challenges every day and continually expanding to do list.
If you don't think time management is essential for your success as an entrepreneur, along with helping you get more done, here are several other benefits that you can gain.
A marked decrease in stress levels
Higher productivity levels
More higher-quality work being produced
More free time to spend participating in activities that you enjoy
Greater opportunities
Less time wasted
Improves your reputation
If you're struggling with managing your time as an entrepreneur, you're not alone.
If you're like many entrepreneurs, you may be unsure of how to get started with managing your time better, so you can get more done. Luckily, can get access to a simple step-by-step plan for entrepreneurs to start to get more done in less time. This comprehensive, eCourse covers everything you need to know to manage your time better so you can accomplish more and reach your goals. Let me introduce you to...TIME MANAGEMENT FOR ENTREPRENEURS. This is a Simple Step-By-Step Plan For Entrepreneurs To Get More Done In Less Time Here's exactly what you'll get inside this Course: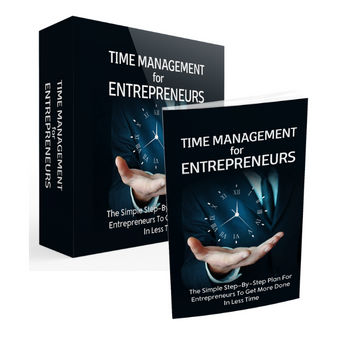 Module 1 : An Ebook Guide
Here's what you'll discover in this guide:
Get a better understanding of the importance of time management.
Learn how to apply the Pareto Principle to your business.
Discover the Parkinson's Law of time management and learn how to use it to your advantage.
Find out how to prioritize your daily tasks and projects using the Eisenhower Matrix.
Discover why having a routine can help you manage your time better and accomplish more.
Learn about outsourcing and delegating tasks so you can focus on the more critical aspects of your business.
Discover how building good habits in your life can significantly improve your time management.
Learn about the various tools and apps that you can use to help you increase your productivity and better manage your time.
You'll discover the 'cockroaches' of productivity and how to eliminate them from your daily schedule.
You'll be able to create a daily routine that will help manage your days and move toward achieving your goals.
You'll learn the importance of focusing on your physical and mental health so you can avoid burnout.
And so much more!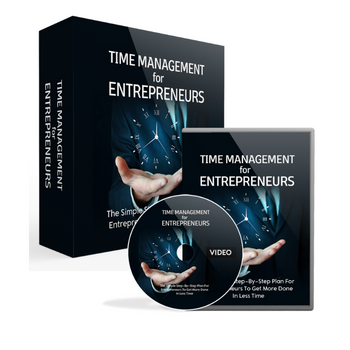 Module 2: 10 exclusive, step-by-step video tutorials.
These are videos that'll show you the tools, techniques and my top tips to finally succeed and get results! Here are the Video Titles…
01 – 2 Ways You Can Use Parkinson's Law to Your Advantage
02 – 4 Habits that Will Kill Your Productivity
03 – 5 Rules for Entrepreneurs to Work Less and Accomplish More
04 – 5 Simple Things That Will Boost Your Time Management Skills
05 – 5 Tips for Entrepreneurs to Get More Done in Less Time
06 – Essential Hacks for Managing Your Time as an Entrepreneur
07 – How Applying the Pareto Principle Can Improve Your Time Management Skills
08 – How to Manage Your Time- Top Tips That Work for Entrepreneurs
09 – Top 5 Strategies for Accomplishing More as an Entrepreneur
10 – Top Hacks for Maximizing Productivity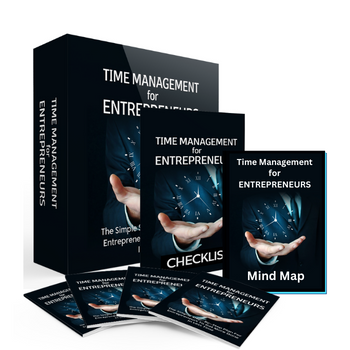 Module 3 : Bonus Content Bundle
This Bundle Includes The Following:
Checklist : View or print this handy checklist so that you can check off each point. It is like a summary of the entire guide but in actionable, bite-sized points so that you can successfully get through the course.
Mindmap : A quick glance over this mindmap and you'll get an instant refresher of all the major points and action steps from the main guide.
Resource Cheat Sheet : You'll also get access to a rolodex of top sites, blogs, forums, tools, apps and services to get you even further. Inside you'll find:
Top blogs and forums
Top tools
Top tips and how to's
+ more!